BitClub Network Mining Pool
We are attempting to build one of the largest Bitcoin mining pools in the world!

Bitcoin and other digital currencies operate as peer-to-peer networks, which means everyone who uses the currency is actually a piece of the system. Mining is simply the term used for maintaining the block chain and verifying each transaction.

Miners use special hardware to solve complex math problems and are issued a certain number of new Bitcoins in exchange. This provides a unique way to issue the currency and also creates an incentive for more miners to participate.

As the popularity of Bitcoin increases more miners join the network, which makes it harder to solve these math problems. For this reason Mining is no longer feasible for an individual and it will continue to get even harder. This has led to the creation of Mining Pools, where many people combine their computing power and increase their odds to mine for Bitcoin.
Responsible Mining in Iceland
BitClub Network mining operation in Reykjavik Iceland.

Iceland provides the perfect environment for large scale mining because not only is the temperature cool all year round, but the island provides 100% clean and renewable energy by utilizing natural Hydroelectric and Geothermal technology.

This means we are not polluting the air and providing a very responsible and green way to mine for Bitcoin. We believe this will soon become a big issue in the world as the combined network power of Bitcoin continues to grow and the amount of electricity being used is outrageous. So we are taking a proactive step to be green! Oh, and it also helps this power is cheaper than anywhere in the world so it's a big Win-Win for our members to be green.

About 70% of our future expansion will be in this new facility. We continue to mine all over the world looking for the best scenarios and solutions for our members. We will never put all of our eggs in one basket but we plan to make this our biggest basket over the next few years.

If you would like to see this facility please contact us, we are allowing certain members exclusive access to tour this facility. You must be a Pro Builder or higher to be considered and in the near future we will even have special offers for Master Builders to get an all expense paid trip (details inside Member's Area).


Video of Mining Facility #2
Video of Mining Facility #1
Real Mining Solutions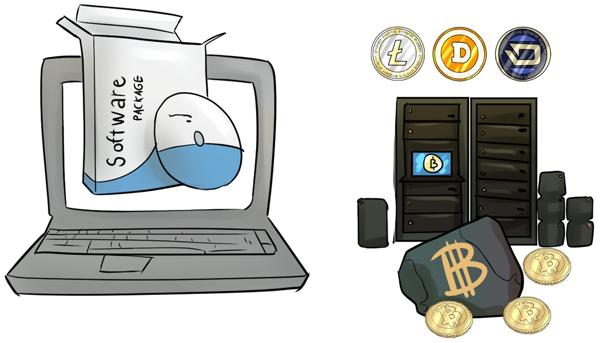 BitClub Network is just like many other mining pools except we offer a unique opportunity for members to purchase shares in the hardware and get paid to share it. For doing this you will earn a daily share of all Bitcoin being mined by the pool.

Our pool is set up for miners to plug in and earn a share of all Bitcoin by pointing their existing mining equipment to our pool. We offer nice incentives for miners who join our pool.

We also offer a referral based system that allows anyone to purchase shares of mining hardware and get paid a commission. With our unique affiliate model and daily Bitcoin payouts we can outpace just about any other mining operation in existence.

As a member of BitClub you actually own a piece of the mining hardware being purchased and depending on the amount of shares you own and the country you live-in, you can actually request to take possession of your equipment. You can request this at any time before your shares expire.

For more details on requesting hardware click here or go to the bottom of this page.

3rd Party Validation

Request Mining Hardware:
When you purchase a share of a mining pool your Bitcoin is being used to purchase actual mining hardware for the pool. We use our purchasing power to get better deals and avoid paying retail. With the volatility of Bitcoin this is very important because the value can fluctuate by +-10% within the same 24 hour period. This makes an individual share a little hard to value because depending on when you purchased it could be 1 machine, 2 or even more.
For this reason you must contact us by opening a support ticket and requesting a quote on how much hashing power your shares are currently worth. This number depends on the age of your account and the total accumulated shares (including partial shares). Whatever the total is we make you a "buy-out" offer and provide a shipping quote to your location. This could end up being 1 miner, 5 miners, or even 20 depending on the models and your shares so each quote will be personalized to your account and current market conditions.
You are responsible for all shipping and transport fees and you cannot combine accounts to add up to a full share, each account will receive it's own custom quote. If you would like to take possession of your mining equipment we can even help you set them up and start mining to our pool directly, or any other pool of your choice. Once your buy-out has been accepted we will unplug your machine(s) and start the shipping process. You will not be compensated during this time frame, once you agree to the buyout and the machine is unplugged you will no longer own your mining shares.
IMPORTANT:
We don't recommend you do this unless you have some experience running these machines or you plan to re-sell them quickly. Mining on your own is difficult and if you are not a technical person it can be very hard to make any profits, or even keep the machines hashing. Not all of the mining equipment will come in original boxes and they will be subject only to the original manufacturers warranty (if it still exists). You are fully responsible after taking possession of your equipment and must contact original manufacturer for any issues.
Taking possession of your miners will cancel your shares and you will forfeit all future mining share earnings in the pools you cash in. Your membership will remain active and you may still be eligible to earn other commissions or purchase additional shares in the future. Contact us for more details.